TNT thanks our sponsors past and present for supporting Women's Soccer in the City of Toronto!
---
Title Sponsor - 2004 Summer and 2004-2005 Indoor Sponsor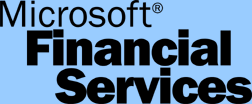 TNT is delighted to welcome Microsoft Financial Services to the title sponsorship role for the 2004 Summer and 2004-2005 Indoor seasons.
Thank you to Randy and Carolyn for making this happen and to Joe for running us to the store to sort out uniforms for the Cup.
Click here to see the girls decked out in our new track suits courtesy of MFS - Coming Soon.
---
Past Sponsorship Recognition
TNT would like to thank our past sponsors :
Caldense Bakery - Summer-Winter 2002/ 2002-2003 Season
1209 Dundas Street West ph: 416-534-3847 Wedding cakes, bread and pastries.